From August 29th  to August 31st , 2019, Isuzu Vietnam will join Vietfish with Quyen Auto – a prestigious manufacturer. This is an international seafood industry exhibition held at SECC – Saigon Exhibition and Convention Center, District 7, Ho Chi Minh City.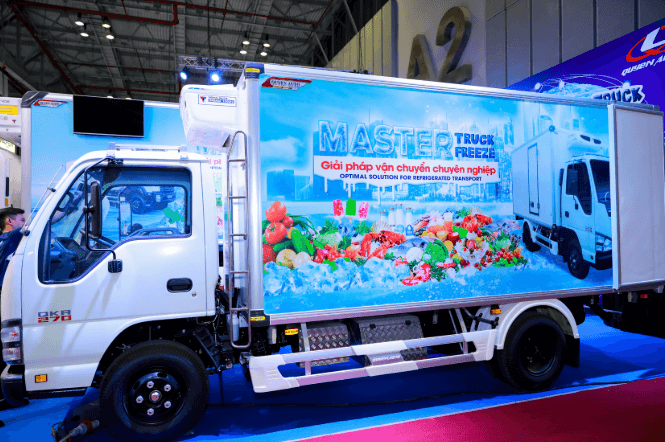 VietFish 2019 also received great attention when it was the event marking the 3 consecutive years of ISUZU and Quyen Auto's cooperation, showing the strategic and cooperative relationship between the two leading manufacturers in Vietnam.
Together Isuzu & Quyen Auto bring "Optimal Solution for Refrigerated Transport" to VietFish 2019 with reefer rear body installed on ISUZU QKR and FVM chassis. This is perfect product which utilize advance functions of Isuzu applying Blue Power Technology meet Euro 4 Emission Level and Quyen Auto Rear Body – a prestige reefer rear body maker in Vietnam. This collaboration already created reefer trucks integrated strong points of famous brands: powerful performance, safety, fuel efficiency with high class reefer rear body which is inspected by Thermal Master with global standard.  Moreover, reefer truck of ISUZU has several optimize of its design & design and rear body dimension. Customers can choose payload range from 1 ton to 14 tons base on their specific using purposes.
Besides the spectacular and eye-catching display area of ​​Isuzu and Quyen Auto booths, the professional SASHIMI performance of Japanese chefs and more than 400 pieces of sashimi ready to serve customers also made audience interested in. With an excellent cooling system, the materials transported by FVM reffer trucks are still fresh, ready to serve customers present at the event.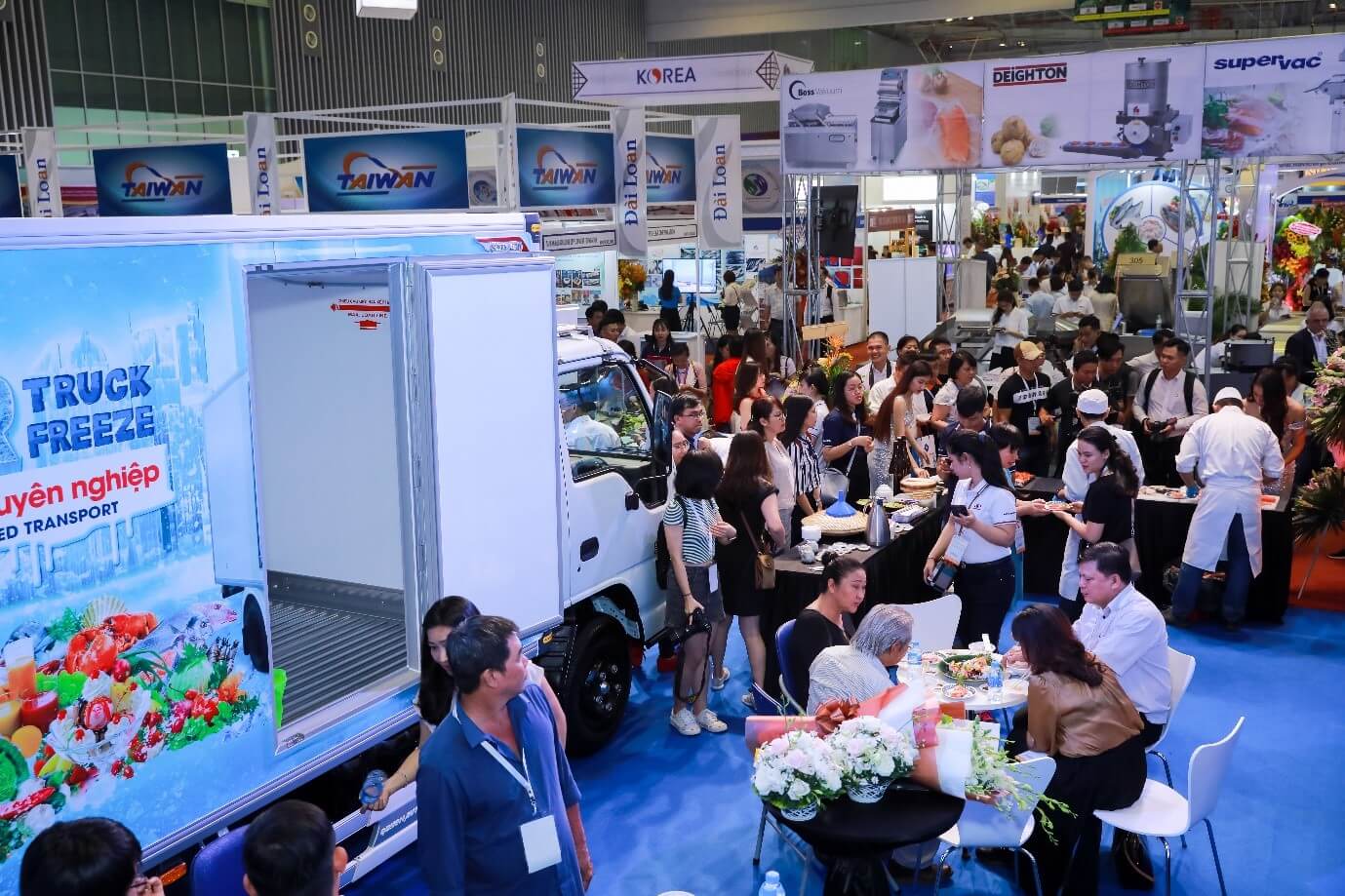 ISUZU and Quyen Auto booths are always geared towards delivering great user experiences and have attracted nearly 3,000 visitors after 3 days of the event.
Mr. V. – Sales Manager of S. Joint Stock Company – guests of the event shared after having the opportunity to admire and enjoy sashimi: "The Vietfish 2019 atmosphere is really bustling and majestic. However, the most outstanding is still ISUZU– Quyen Auto booth with sashimi made directly by Japanese chef. The performance was fascinating, but the finished product was even more amazing. The raw material retains its freshness thanks to a quality freezer vehicle. I really enjoyed it. "
Besides, the unique North Pole -18 degree C experience in FVMT freezer rear body of Isuzu – Quyen Auto has attracted great attention from thousands of visitors.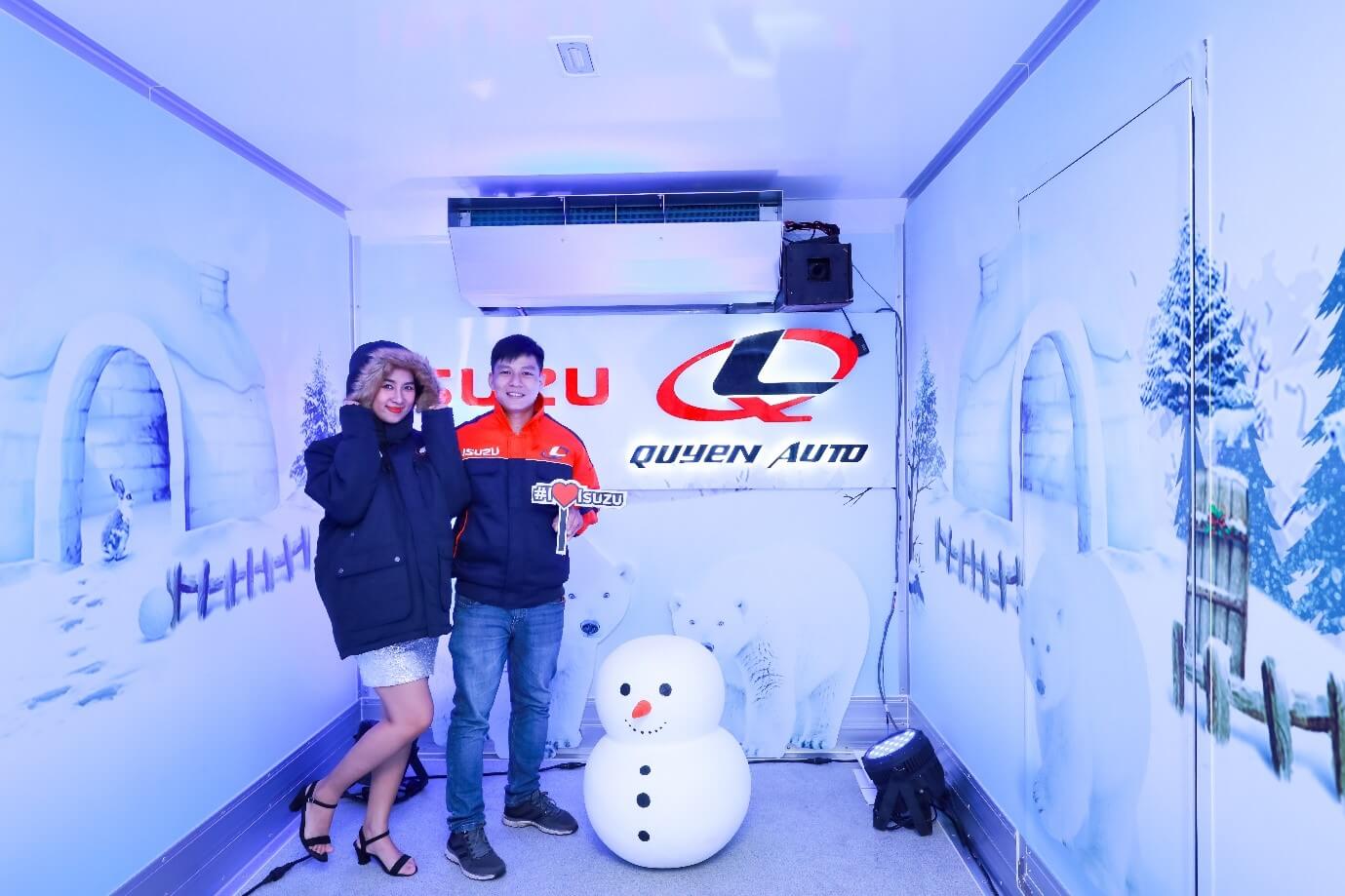 Experience the -18 degree North Pole in FVMT freezer rear body.
At the event, Isuzu Quyen Auto also gave flower, special gift & deep thanked Sagawa Express Co., Ltd. – a large and very reputable transportation company in Japan and Vietnam. Sagawa Express provides high quality transportation services that customers can trust. Attending this Vietfish event, Sagawa Express signed a contract to buy 20 Isuzu trucks (NMRH) with frozen rear body from Quyen Auto.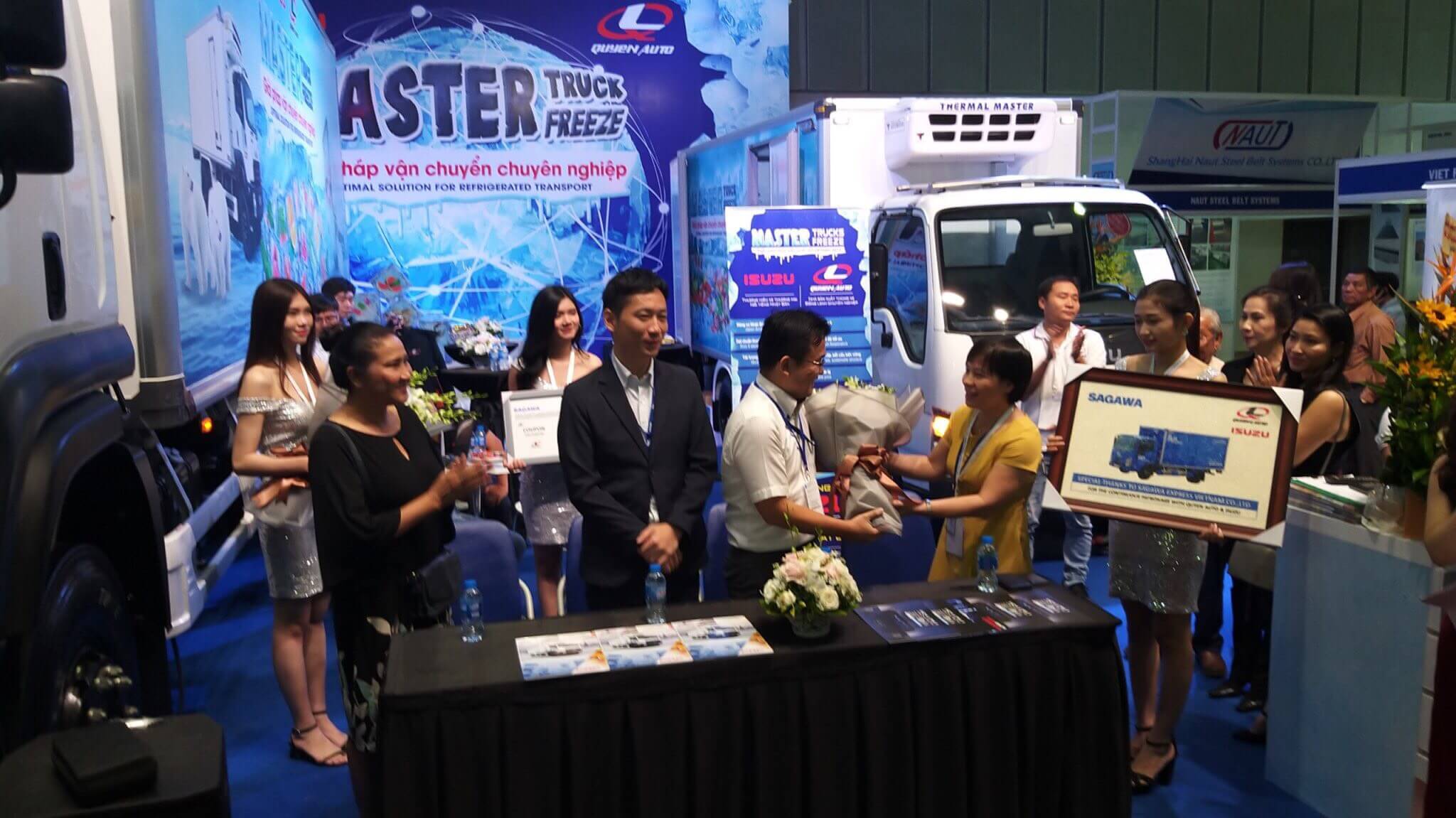 Isuzu Quyen Auto gave flower, special gift & deep thanked Sagawa Express Co., Ltd
Isuzu & Quyen Auto also gave flower, special gift & deep thanked to Binh Minh Tai – a logistic company in Vietnam, who signed a contract to buy 4 trucks (FVRS) with frozen rear body from Quyen Auto at Vietfish event 2019.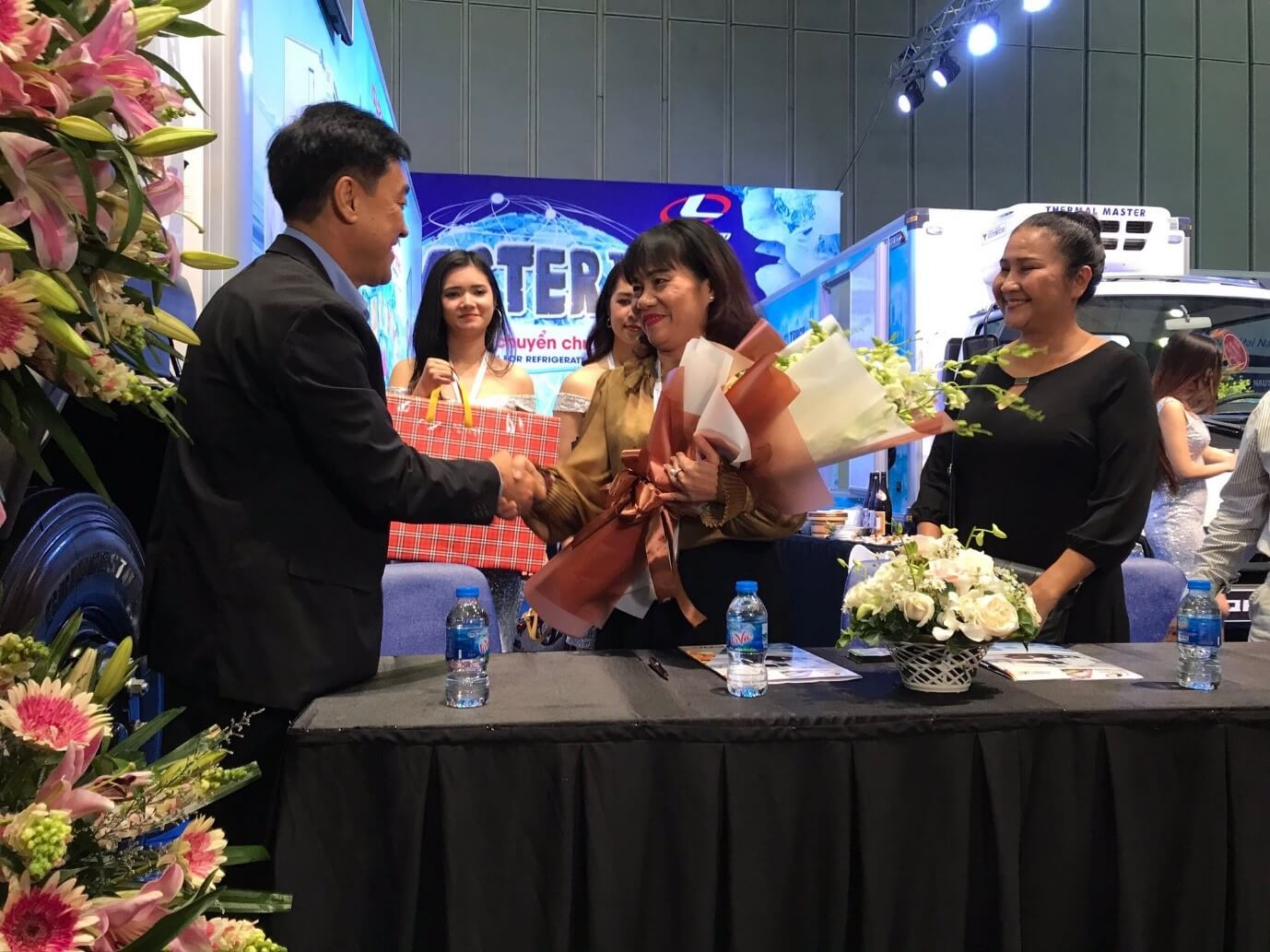 In addition, from September 3 2019, Isuzu Vietnam has launched a biggest promotion ever worth up to 59 million VND. Details at: https://bitly.com.vn/z95TO
ISUZU Vietnam specializes in providing a variety of genuine Japanese light-medium-heavy vehicle with attractive promotion worth up to 59 million VND:
1/ QKR: Promotion worth up to 16 million VND. This is light trucks with GVW from 1.4 – 2.25 tons, with common rail engines, favored by Japanese quality standards and competitive prices.
2/ N-SERIES: Promotion worth up to 26 million VND. This is the new classy generation of light trucks qualified EURO 4 standards with many optimal improvement with GVW from 1.4 – 5.3 tons
3/ F-SERIES: Promotion worth up to 59 million VND. This is the medium & heavy  with GVW from 6.4 – 15.4 tons, specialized in long route transportation